2022 BMW iX vs. Tesla Model X

The all-new BMW iX is the very first all-electric Sports Activity Vehicle built by BMW. It offers an intoxicating blend of futuristic technology, daily usability, and traditional BMW dynamics. It's no wonder, then, that it's a highly anticipated new arrival to the BMW line-up, and one that's sure to draw comparisons to the Tesla Model X. While the Tesla Model X has already established itself in the fully electric luxury SUV segment, we believe the BMW iX is the superior choice for serious driving enthusiasts, for people who demand the latest and greatest in high technology, and those who demand the utmost in luxury.
2022 BMW iX vs. 2022 Tesla Model X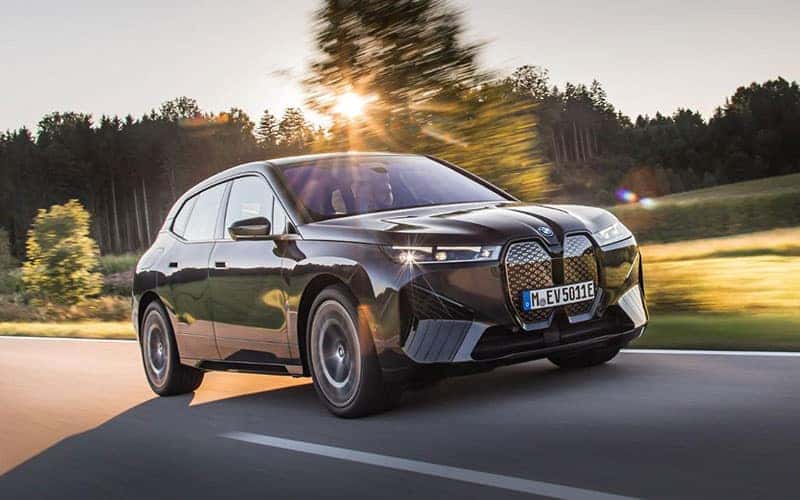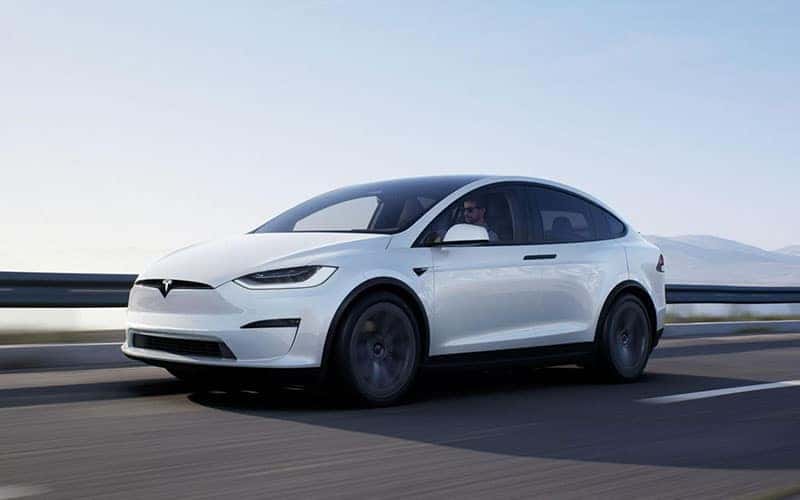 Please Scroll to see more
| | | |
| --- | --- | --- |
| 2022 BMW iX xDrive50 | VS | 2022 Tesla Model X Long Range |
| $83,200 | Base MSRP | $99,690 |
| Dual Motor All-Wheel Drive | Drive Type | Dual Motor All-Wheel Drive |
| 516 | Horsepower | 670 |
| 3.6 seconds | 0-60 Time | 3.8 seconds |
| 324 miles | Range* | 348 miles |
| Curved Digital | Gauge Display | Digital |
| Optional Panoramic Sunroof with Electrochromic Shading | Sunroof | Not Available |
| 18 speaker Harman/Kardon | Audio | 22 speakers |
| Standard | Android Auto™/Apple CarPlay® | Not Available |
| 42 inches | Front Head Room | 41.7 inches |
| 61.5 inches | Front Shoulder Room | 60.7 inches |
| 39.5 inches | Second Row Head Room | 41 inches |
| 58.3 inches | Second Row Shoulder Room | 56.9 inches |
| 38.9 inches | Second Row Leg Room | 38.7 inches |
| 35.5 cubic feet | Cargo Space Behind Second Row | 37.1 cubic feet |
Comparing these two electric luxury SUVs, it's clear that the BMW iX and the Tesla Model X are fairly similar. In fact, the only comparison where the Tesla handily beats the BMW is when it comes to raw horsepower – the Tesla has 670 horsepower, while the BMW has just 516. Regardless, the BMW iX still accelerates to 60 miles per hour two tenths of a second faster than the Tesla – demonstrating that horsepower alone doesn't paint a complete picture of "performance".
Both vehicles offer a similar drivetrain, with dual motors and all-wheel drive. When it comes to interior dimensions, both vehicles are very closely matched. The BMW iX offers slightly more shoulder room, rear leg room, and front head room, while the Tesla Model X offers slightly more cargo space behind the second row of seats. But, with similar drivetrains and interior space, you'll need to decide for yourself if the one area where the Tesla does hold an advantage – with an additional 24 miles of range – is worth a $16,000 price difference between these two vehicles.
Cutting-Edge Technology
When it comes to technology, the BMW iX is miles ahead of the Tesla. The elegant curved digital gauge cluster is easier to read and reduces glare on sunny days. The sound system in the Tesla Model X may have four more speakers, but it's not from a name-brand, well-known audio manufacturer. The standard sound system in the BMW iX is from Harman/Kardon, a trusted name in the high-end audio business. It's also important to note that the Harman/Kardon system found in the BMW iX supports Apple CarPlay® and Android Auto™, while the system in the Tesla Model X does not.
The operation of gull-wing doors on the Model X mean that a sunroof simply isn't possible, while the traditional doors of the BMW iX allow for a state-of-the-art panoramic sunroof with electrochromic shading. Truly impressive to see – at the push of a button, electrically-charged liquid crystals transform the glass roof from opaque to transparent and back again.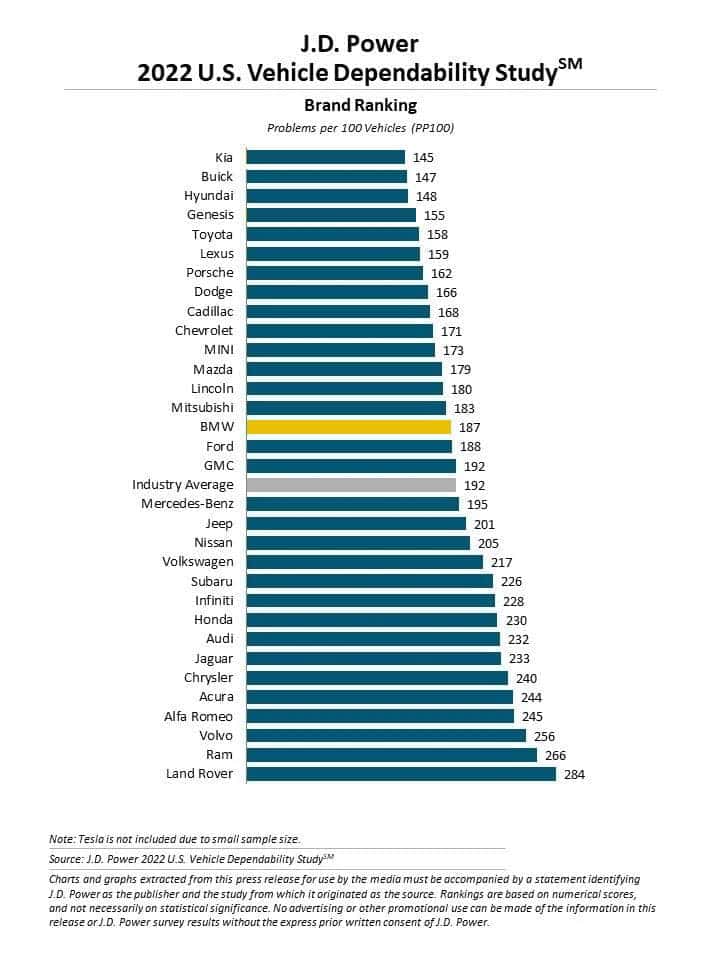 BMW Quality
For the 2021 model year, BMW won four J.D. Power quality awards for their lineup of luxury cars and SUVs.** Tesla does not have an "Official" ranking in the JD Power Dependability Study due to a small sample size, because Tesla doesn't grant J.D. Power permission to survey its owners in 15 states where it is required.  At the same time, in the J.D. Power U.S. Vehicle Dependability Survey, BMW ranked just outside the top ten for quality across all brands, ahead of luxury competitors such as Mercedes-Benz, INFINITI, Audi, and Volvo.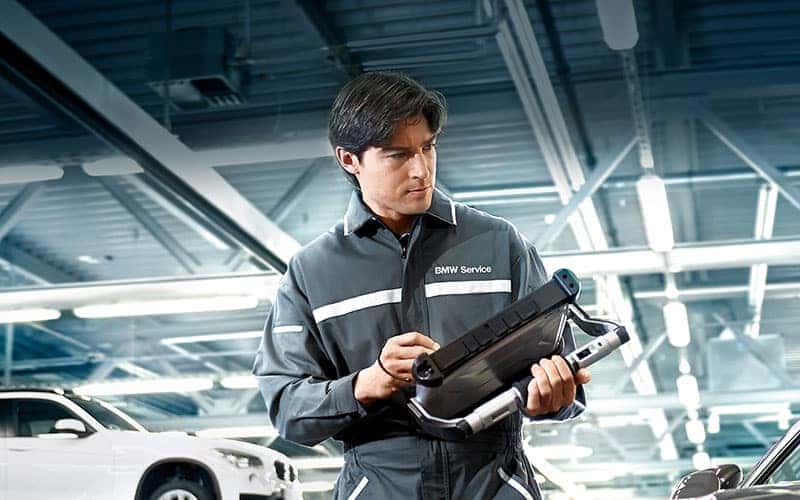 Dealership Network
Tesla has drawn attention for their aversion to the traditional dealership network for vehicle sales. Instead, Tesla customers are served by Tesla "stores." Currently, BMW maintains a presence of over 340 dealerships across the United States, while Tesla has fewer than 200 stores nationwide. That larger dealer network can be important when you are far away from home and need service or support.