2023 BMW iX Sports Activity Vehicle Review with Specs, Prices, Photos, & Trims

BMW iX
Key Features
Starting at $84,100 MSRP*
Dual all-electric motors with a total power output of 516 horsepower and 564 lb-ft of torque
AC Fast Charging up to 11 kW (J1772), DC Fast Charging capability up to 195 kW (SAE Combo), and Flexible Fast Charger cable with 110V/220V capability
Total EV range of up to 305-324 miles (EPA estimated)
xDrive dual-motor all-wheel-drive with ARB-X acceleration slip control
Live Cockpit Plus including a 12.3-inch digital instrument cluster and 12.3-inch touchscreen central information display
Comfort Access with Smart Access 2.0 Ultra-wideband (UWB) technology for keyfob and smartphones plus digital key sharing
Perforated Sensatec Upholstery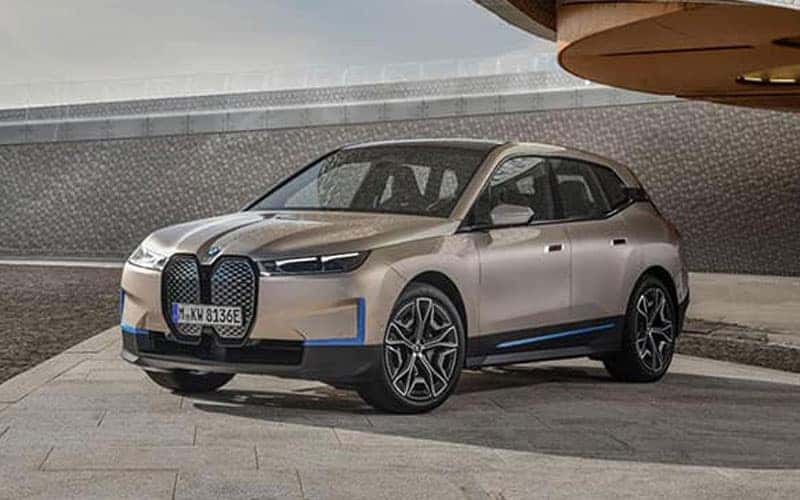 About the BMW iX
BMW pushes the technological envelope once again with the all-new, first-ever iX Sports Activity Vehicle. As you would expect from any BMW, it effortlessly combines dynamic performance, luxury, and utility. This time, however, those attributes are built into an electric vehicle that takes the BMW ethos and pushes it forward into the future. With the iX, you sacrifice nothing for performance, driving feel, practicality, and comfort in an electric vehicle.
If you're looking for next-generation tech, the iX won't disappoint. The iX includes features you've never seen on a car before, such as a panoramic glass roof with electrochromic shading, an Intelligent Personal Assistant, and "shy tech" styling that hides arrays of sensors and buttons behind styling features for a cleaner look. Thanks to Sewickley BMW, you can be first in line for the electric BMW revolution. Experience the next generation of The Ultimate Driving Machine with the electrifying BMW iX.
What the Critics Say
The iX's brawny electric powertrain hauls the SUV around with confidence and enables a lengthy driving range of more than 300 miles on a full charge. In typical BMW fashion, the iX feels poised and nimble when navigating turns, but it also delivers an impressively cushioned and smooth ride on rough pavement. The iX's greatest asset, however, is its interior." — U.S. News & World Report
Most people familiar with BMW's infotainment system know that it's called iDrive. Now in its eighth iteration, it has evolved to become wonderfully user-friendly and able to incorporate the specific needs of electric vehicles. In the new BMW iX, it comes with a curved 14.9-inch touchscreen, over-the-air updates, advanced voice recognition, and dedicated user profiles." — Kelley Blue Book
What's New for 2023
After its debut last year, the BMW iX returns for 2023 with a handful of updates that are worth highlighting. Most notably, the iX gains a new high-performance M60 variant that cranks out an impressive 601 horsepower along with a 280-mile driving range. Elsewhere, the previous Convenience, Dynamic Handling, and Luxury packages have been condensed down into a single Ultimate package for the 2023 model year.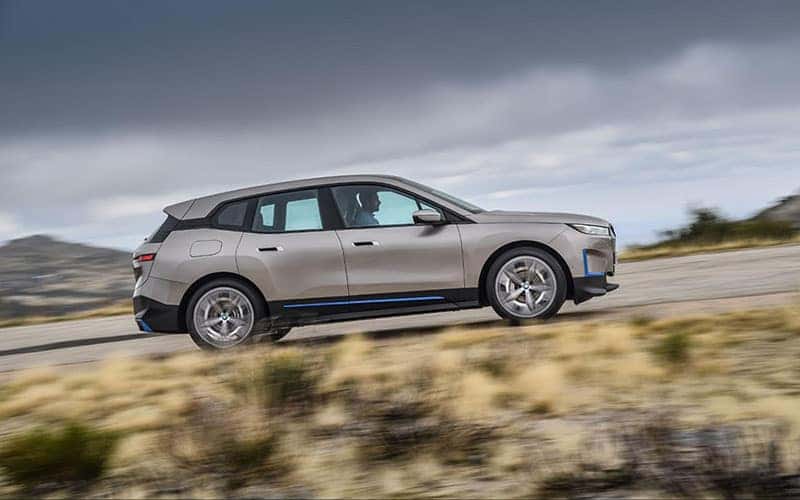 First of its Kind
The BMW iX is the first fully-electric BMW Sports Activity Vehicle, a segment the brand invented with the cutting-edge X5 over two decades ago. That model caused a sensation upon its release, and the iX is certainly no different. As you would expect from a Sports Activity Vehicle, the iX combines utility and comfort with a precision driving feel that's uniquely BMW. Handsome styling, a stylish, roomy cabin, and a pair of powerful electric motors combine to give you everything you've always dreamed of in an electric vehicle – and then some. BMW engineers packed the iX with futuristic technology, the likes of which you've never seen or experienced before. With the BMW iX, you finally get to enjoy the best of all worlds.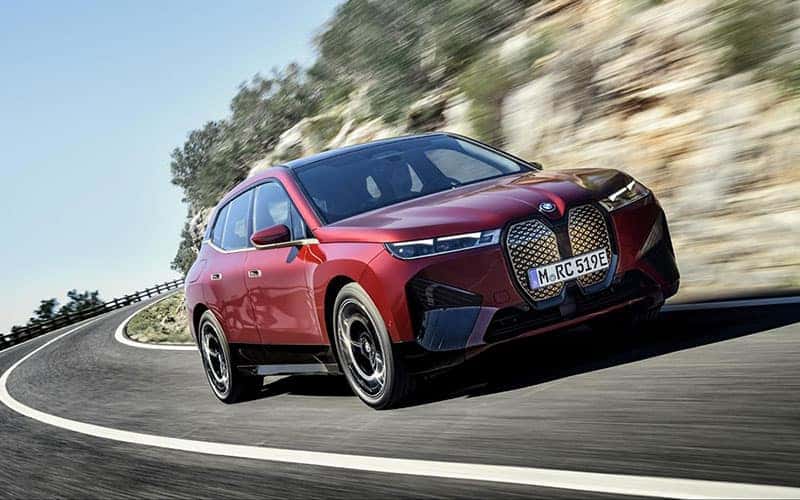 Power at Your Fingertips
Most of the time, when you're discussing electric vehicles, the conversation inevitably turns to efficiency and sustainability. We'll get to that eventually, but remember – the iX Sports Activity Vehicle is a BMW. It's time to talk about performance. Thanks to the near-instantaneous torque afforded by electric motors, the iX can accelerate to 60 miles per hour in less than five seconds. There's a whopping 516 horsepower on tap, produced by twin electric motors and fed through all four wheels. Naturally, the BMW iX drives like a BMW, with a tight-handling, responsive chassis that's not rough or uncomfortable like some hard-edged sports cars.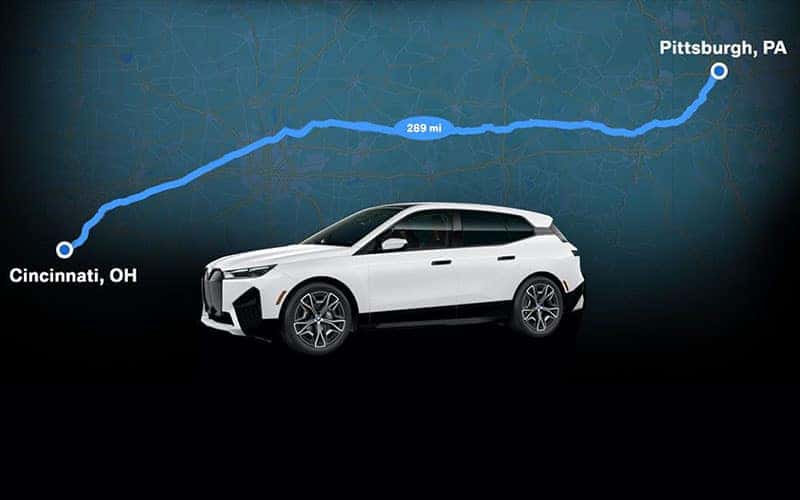 Hard-Charging Efficiency
Range anxiety has kept a great many folks from taking the plunge and going full electric. It's understandable – nobody wants to be left stranded, waiting for a charge. With a maximum range of up to 324 miles, you've got nothing to worry about. If you need to travel even further, a fast charge option can provide up to 90 miles of additional range in just ten minutes, while a 40-minute charge can replenish the battery up to 80% of its original capacity. A full charge from a 240V outlet takes less than 12 hours. With the BMW iX, you can go anywhere and do anything – and you won't have to worry about range. Despite its SUV-like shape, the iX boasts a drag coefficient of just 0.25, making it incredibly aerodynamic and efficient.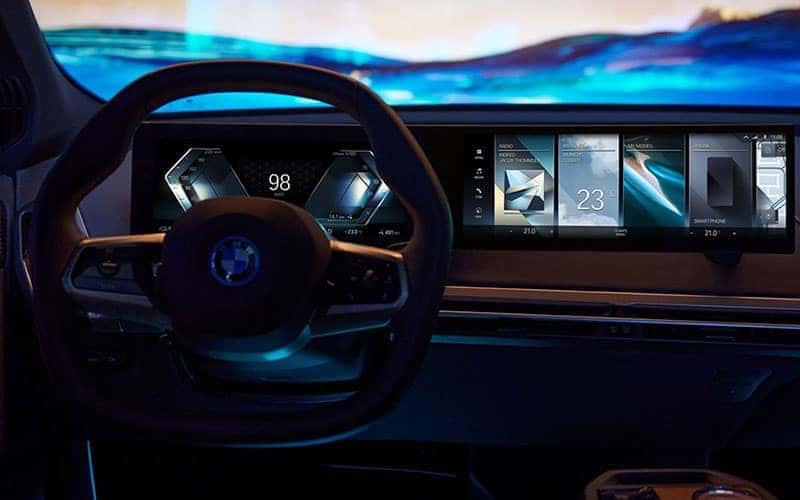 Futuristic Tech
The BMW iX boasts incredible, forward-thinking technology, like a built-in artificial intelligence personal assistant that understands conversational language. Buttons and switches are cleverly hidden beneath features such as the wooden dashboard trim, which lends the cockpit of the BMW iX a clean, futuristic look and feel. The massive center screen uses Augmented Reality navigation to help you find your destination, and runs on the latest iDrive 8.0 infotainment system. Outside, the trademark BMW "kidney" grille now contains an array of sensors and cameras to feed information to various driver assistance features. Our favorite feature is the panoramic glass roof with electrochromatic shading. At the push of a button, the roof glass can shift from opaque to transparent and back again. It's a useful feature for when the future gets just a bit too bright.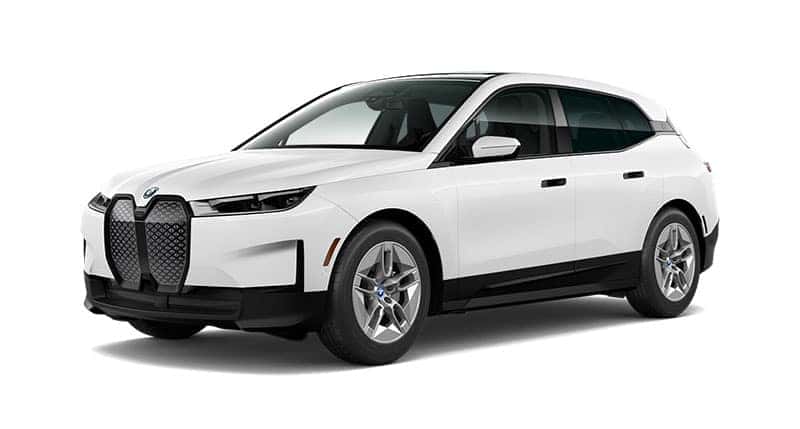 iX xDrive50
Starting at $84,100 MSRP*
Dual all-electric motors
xDrive dual-motor all-wheel-drive
516 Horsepower
305-324 Miles of EV Range
0-60 MPH – 4.4 Seconds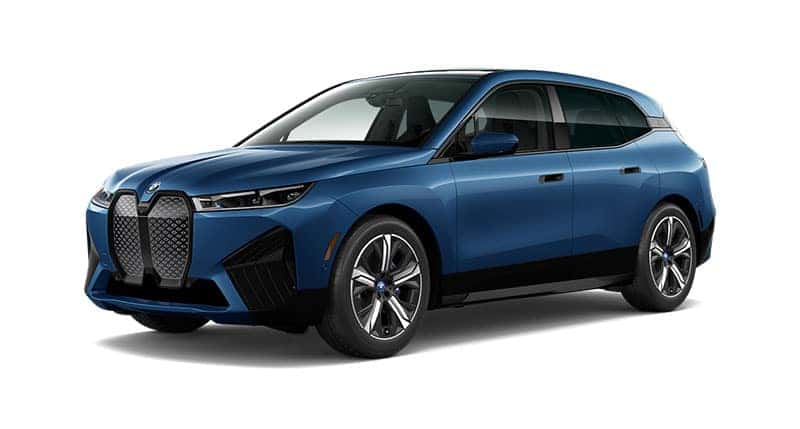 iX M60
Starting at $108,900 MSRP*
Dual high-performance electric motors
xDrive dual-motor all-wheel-drive
610 Horsepower
274-288 Miles of EV Range
0-60 MPH – 3.6 Seconds
*Price and specifications are subject to change. Price does not include sales tax, destination charges, or dealer fees.