2024 BMW i5 Model Review with Prices, Photos, & Specs

BMW i5
Key Features
Starting at $66,800 MSRP*
All-electric drivetrain producing either 335 or 590 horsepower
Choice of rear- or all-wheel drive
Range of up to 295 miles
BMW Curved Display with 14.9-inch infotainment touchscreen with iDrive 8.5
Standard moonroof with available full-glass Sky Lounge Roof
Interaction Bar, with Ambient Lighting reacting to driver inputs.
Highway Assistant hands-free driving under certain highway conditions
AirConsole gaming console that plays games and YouTube on the infotainment screen
Intelligent eRoute to help plan charging stops on longer trips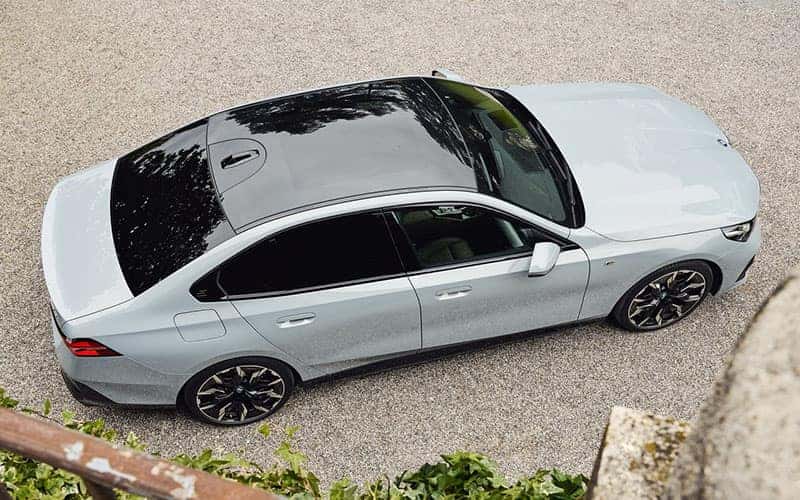 About the BMW i5
As the name suggests, the i5 is closely related to the gas-powered 5-Series. The same platform is used for both, which was designed from the ground up to accommodate either gas or electric drivetrains equally. That means you can enjoy the legendary driving dynamics of the BMW 5-Series in electric form, with either the rear-wheel drive, 335 horsepower eDrive40, or the dual-motor, all-wheel drive M60, which hammers out a pulse-quickening 590 horsepower. The i5 comes with an 84.3 kWh battery pack, which is good for 295 miles of range in the eDrive40, or 256 miles in the more powerful M60. DC fast charging will take it from 10 to 80 percent power in about 30 minutes, and BMW includes free 30-minute charging sessions with Electrify America for the first three years of new i5 ownership.
What the Critics Say
Our thoughts? It's a proper 5 Series, and a potentially great one at that. The new 48-volt electrical system's active roll stabilization, alongside clever rear suspension, keeps the car flat and planted over imperfect pavement, and the addition of rear steering lends newfound agility in tight hairpins. We also like the addition of a Boost button that unlocks a smidge of additional performance for a short burst." — MotorTrend
During our initial drive in an i5 M60 prototype, we were impressed by the sedan's agile handling, confidence-inspiring levels of cornering grip, and muscular dual-motor powertrain. BMW says the more powerful of the two powertrains can rocket the i5 to 60 mph in just 3.7 seconds, which from our seat-of-the-pants evaluation seems entirely believable." — Car & Driver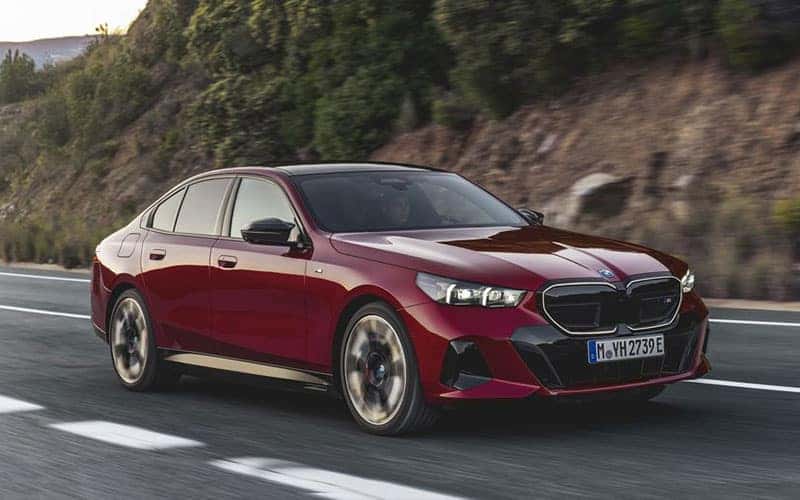 Serious Performance
Even in eDrive40 trim, the i5 is noticeably quite a bit more powerful than its gas-powered counterpart. The 335-horsepower drivetrain will propel the eDrive40 to 60 mph in 5.7 seconds. Move up to the M60 and you get 590 horsepower and a 3.7-second 0-60 time. To put that horsepower figure in perspective, the Porsche Taycan GTS has an identical horsepower rating but comes with a price tag more than $50,000 over that of the M60. You get M Sport brakes standard with the M60 as well, and available four-wheel steering means the i5 can stop and maneuver just as easily as it sprints forward. But whichever configuration you go with, the i5 carries on the iconic performance sedan tradition of the 5-Series into a new era.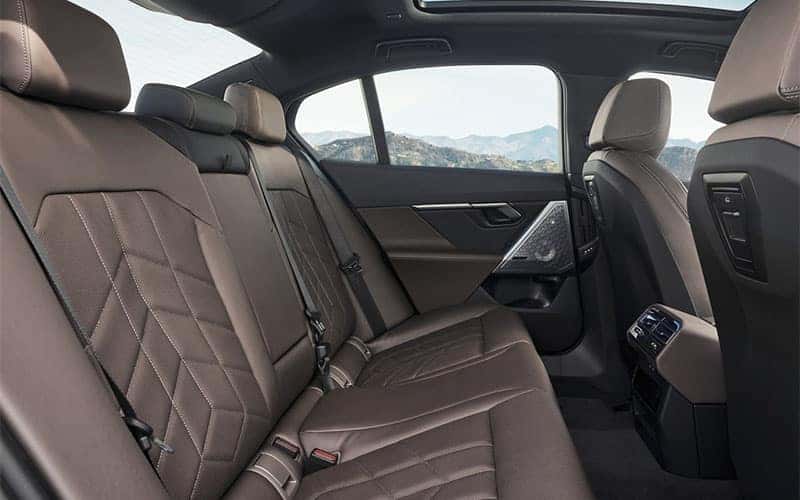 Modern Luxury
For all its blistering performance, the i5 is at heart an executive sedan, and that comes with an expectation of a certain level of luxury. Fortunately, the i5 far exceeds that expectation. The seats are comfortable, with available leather upholstery, as well as Veganza, a leather alternative that is, as you might have guessed from the name, vegan-friendly. The design is modern, with clean lines and high-quality materials. There is a standard moonroof, but those wanting a more open and airy feeling have the option of a full-glass Sky Lounge Roof. And when the sun goes down, Ambient Lighting provides a soft glow that improves visibility inside without reducing visibility outside. The available crystal controls add that extra touch of sophistication that sets the i5 apart even more.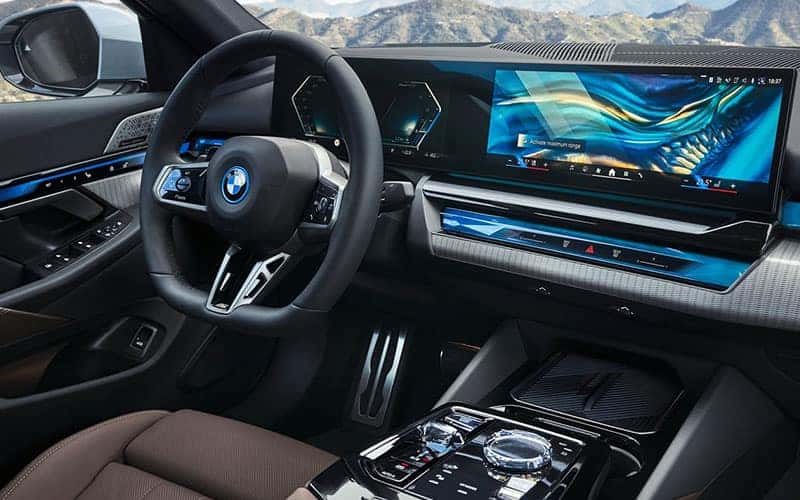 Technologically Advanced
The i5's electric drivetrain is powered by an 84.3 kWh battery pack that allows for up to 295 miles of range. Home 240-volt charging is quick, thanks to 11 kW AC charging, and DC fast charging can get the i5 from 10 to 80 percent charge in just 30 minutes. All of this represents the latest in EV technology, and makes for a vehicle that's easy to live with. Inside, you'll find even more impressive tech, including BMW's signature Curved Display, which combines a 12.3-inch digital gauge screen and a 14.9-inch infotainment touchscreen into one continuous piece. The i5 comes with iDrive 8.5, and over-the-air updates are included as needed. Complementing this large infotainment display is AirConsole, a full video game console that lets you play using your phone as a controller, or watch YouTube. When parked, obviously.
BMW Charging Guide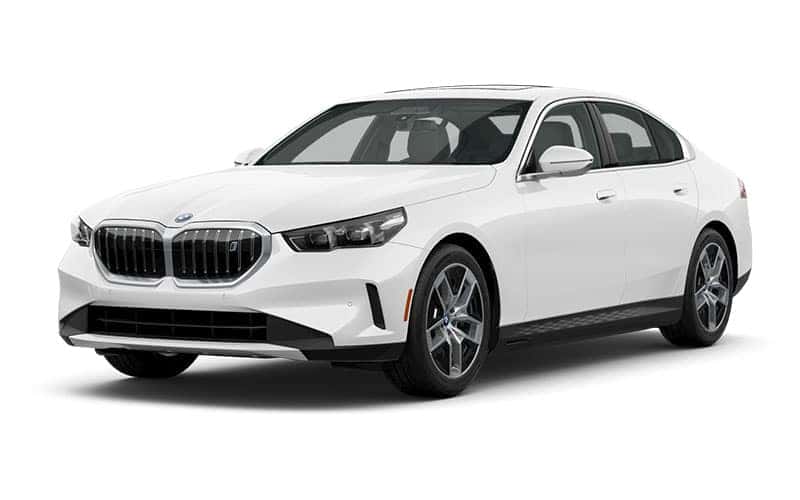 eDrive40
Starting at $66,800 MSRP*
Rear-wheel drive
335 horsepower
0-60 in 5.7 seconds
Range of up to 295 miles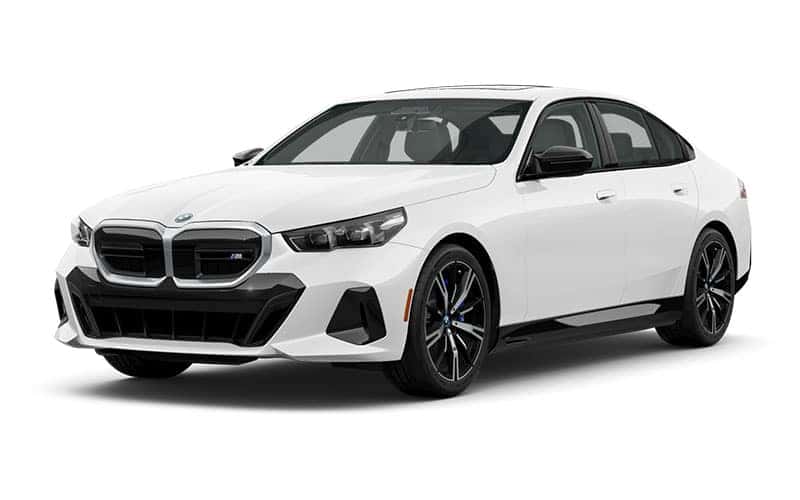 M60
Starting at $84,100 MSRP*
All-wheel drive
590 horsepower
0-60 in 3.7 seconds
Range of up to 256 miles
*Manufacturer's suggested retail price (MSRP) for i5 is not the sales price and does not include tax, title, license, registration and adjusted market value. Dealer sets actual price. Please consult your dealer.